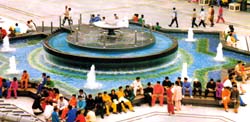 Airport
Brunei International Airport is served by Royal Brunei Airlines, with connections to 22 cities, in Europe, the Middle East and local regional capitals. Singapore Airlines, Thai International and Malaysia Airlines and also operate to and from Brunei.
Airport Tax
Departing passengers leaving for Malaysian States of Sabah and Sarawak pay B$5.00 departure tax, all other destinations pay B$12.00.
Visas
Malaysian, Singaporean and British citizens are exempted from visas to enter Brunei Darussalam for social visits not exceeding 30 days. Visas are also waived for social visits of 14 days for citizens of Thailand, Indonesia, the Philippines, Japan, France, Switzerland, Canada, the Republic of Korea, Netherlands, Luxembourg, Belgium, Germany, the Republic of Maldives. American citizens are allowed 30 days for social visits. All other nationals must have visas. 72 hours transit visas are available on the arrival at the Brunei International Airport for passengers traveling to a third country.
Health Certificates
Visitors are required to have International Vaccination Certificates. Cholera and Yellow Fever certificates are required for all travelers over one years old who travel from infected areas.
Currency
The Brunei dollar is on par and freely interchangeable with the Singapore dollar, although the S$1 coin is not accepted in Brunei, all other denominations are accepted. Most banks have ATM machines. Credit cards is widely accepted in larger stores, hotels and restaurants, although smaller shops may only accept cash.
Clothing
Sunny, with temperatures in 28° - 33°C range. Light clothing is advisable, with a hat or sunshade for any prolonged exposure. Ladies are asked to dress modestly, in keeping with local customs.
Hours of Business
Government offices are open Monday to Thursday and Saturdays from 8am to 12.15 and from 1.30 to 4.30pm. Closed on Fridays and Sundays. Private sector offices are open 8am to 5pm weekdays. Shops and shopping centres are generally open from 10am to 10pm.